JR Sapporo Station is a layer-cake of shopping. The station can be divided into a core of three shopping sectors, with outer orbitals of notable shops.
Spanish for "passage", this is Sapporo Station's oldest shopping sector. Stores in the northern half of the station go under- and aboveground for several stories. The northeast sector (visible from the East Concourse of JR Station) offers several floors of boutiques and designer goods appealing to the trendy and upscale. Read More
On the other hand, the northwest sector of Paseo (visible from the West Concourse of JR Station) is more practical. Drugstores, cheap restaurants, and even tourist information on the ground floor will tempt you to walk a full block west, exit the station below the train overpass, and cross the street to the cheapest (but busily hectic) electronic-goods and multimedia shopping in town: Yodobashi Camera Sapporo. If you've never been to a Yodobashi, now's your chance.
The southern half of Sapporo Station is a transition zone of stores between all the other shopping zones. Its main selling point is the several floors of shops with balconies overlooking an enclosed open-air piazza, topped off by a world-class movie theater on the seventh floor. There isn't a distinguishable border between Paseo and Stellar Place, but it's worth spending an hour or so strolling from floor to floor, enjoying the natural light filtering in and the flurry of Sapporo's commuters and consumers. Watch the young negotiate paths with the elderly as both make their way to the shopping sector of their choice. Read More
Located in the southeast sector of the station, this separate free-standing building (the former Sogo Department Store) also offers goods on the cheaper side. This includes a 100-yen store in the basement, Uniqlo's reasonably-priced high-quality clothing, and Bic Camera, Yodobashi's earnest competitor.
Typical of Japanese department-store blocks, there is a fancy restaurant floor at the top and a thriving food-stall marketplace belowground. Aficionados of Japanese calligraphy and high-quality household goods (scented multicolor pens, bento lunch boxes with calorie-control menus, and stationery embossed with actual flowers) should check out Loft on the 6th floor. Read More
Located in the southwest sector of the station, this is another free-standing building opposite of ESTA, framing Sapporo Station's impressive outdoor plaza.
For many Sapporo shoppers, bored with Odori's dominating Marui Imai and Mitsukoshi department stores, the advent of opulent Daimaru signified that Sapporo (a city of nearly two million people) was finally being taken seriously. Indeed, the ground floors offer opulent boutiques (Hermes, Bulgari, Gucci, Tiffany's etc.) commensurate to Sapporo's size, and it's worth an escalator ride to browse Daimaru's upper levels.
There is, naturally, a gourmet restaurant floor at the top. But the must-see is Daimaru's basement floors. Bustling designer-sweets booths and freshly-made food stalls may tempt you into foregoing any restaurant in Sapporo, and just taking a freshly-wrapped hot boxed dinner back to your hotel room. Read More
Marui Imai is a department store with a long history in Sapporo which currently occupies two main buildings in the center of the city close by Odori Park. These two buildings are the Odori Building and the Ichijo Building which stand across from each other and are connected by walkways at the B1 basement level and at the 5th and 7th floors. There is also a Nishi Building (also called the West Building) which stands beside the Ichijo Building, but this has only two floors and stocks only Louis Vuitton products. Read More
Apia is an underground shopping center on the south side of JR Sapporo Station. Here you can find a variety of fashion boutiques, souvenir stores, including Sanrio's Hello Kitty store, pharmacies, convenience stores, cafes, fast food diners, and Japanese restaurants. Read More
Nijo Market is a well-known fish market in central Sapporo which is popular for both its fresh seafood restaurants and for its colorful stalls which are heaped with displays of crab, salmon, tuna, sea urchin, salmon roe, and shellfish. Read More
Located directly across from JR Sapporo Station's South Exit, Sato Fisheries Sapporo Main Store is a kind of seafood wonderland with two sales floors of diverse marine products. Sato Fisheries is a well-known company in Hokkaido that produces and sells both fresh and processed seafood products. At the Main Store you can find an incredible range of fish and shellfish such as scallops, crab, shrimp, squid, saury, and herring; a variety of seasoned caviar; as well as canned goods, sauces, seasonings. Read More
Daimaru Fujii Central is a large department store in Sapporo which is almost entirely devoted to stationery, office supplies, and art supplies. This is a great place to shop for high quality pens, traditional Japanese paper, stationery printed with your favorite characters, and colorful gift wrapping supplies. The 4th floor, however, also has a lot of traditional Japanese goods and accessories which makes it a good place to shop for souvenirs. Read More
Rokkatei is a famous confectionary company based in Hokkaido which produces a wide range of Japanese and Western style sweets. As a brand, Rokkatei is closely associated with Hokkaido, sourcing the best ingredients from the prefecture's farms and dairy industry, and fittingly, the name Rokkatei (literally "six flower pavilion") was inspired by a poetic word for snowflakes. For many visitors to Hokkaido, Rokkatei's sweets are an essential souvenir when visiting this snowy northern island, and their fancy packaging helps to make them a popular gift too. Read More
Sapporo Factory is a massive shopping, dining, and entertainment complex in central Sapporo. The complex was built on the site of the historic Kaitakushi Brewery (a predecessor of Sapporo Breweries) and includes some of the old red-brick brewery buildings. Altogether there are seven interlinked buildings in Sapporo Factory. Among them you will find over 160 different stores selling fashion, sports equipment, lifestyle and interior goods, restaurants, cafes, a cinema, a beer museum and a hotel. Read More
Sapporo Tokyu Department Store is a major department store close to Sapporo Station which has 10 floors of shops and restaurants above ground as well as a basement level food hall. Sapporo Tokyu stocks a great range of fashion for men and women, as well as children's wear, sportswear, bags, accessories, cosmetics, household goods, and furniture.
Hokkaido's best known confectionery brands and other edible souvenirs can be found in the food hall, and on the 8th and 9th floor is a branch of the popular lifestyle store Tokyu Hands. Read More
Sapporo Parco is a major department store in central Sapporo located in the busy shopping district to the south of Odori Park. Parco has eight floors above ground and two basement levels. Here you can find clothes, cosmetics, bags, watches, jewelry, interior goods, beauty products, sports equipment, food, and souvenirs. Read More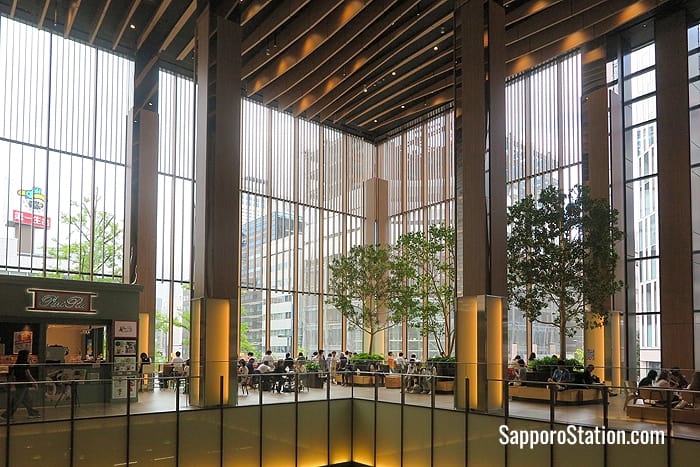 Akarenga Terrace is a five-story commercial center in central Sapporo which is filled mainly with restaurants and cafes, but also has some shops and other services. The main architectural feature of Akarenga Terrace is its large central atrium which acts as a traditional nakaniwa or courtyard garden, giving the building's interior a bright and airy appearance. Read More
The Kurashi Store of Hokkaido is a chain of select stores that sells only select Hokkaido produce. This store is also called Hokkaido Kurashi Hyakkaten in Japanese. "Kurashi" means "lifestyle" and "hyakkaten" means department store. However, for the most part this store sells gourmet food and drinks, as well as a variety of groceries and craft products that you can only find in Hokkaido. Here you can find a wide range of specialty goods from every region of Hokkaido that make for excellent souvenirs and gifts. Read More
Kinokuniya Books
West of the station just beyond Daimaru Department Store, and next to the Century Royal Hotel, Kinokuniya is the Mitsukoshi of Japan's bookshops. They do have a floor devoted to "foreign books" and magazines in English, German, and French, but they are a bit overpriced. In an era where brick-and-mortar bookstores are closing worldwide, this multistory literary emporium is still going strong.
Hokkaido Dosanko Plaza is a gift shop showcasing and selling the very best souvenirs of Hokkaido in the JR Sapporo Station building. This is not a huge shop, but it sells a great range of goods that you can only find in Hokkaido. Although it resembles a small supermarket, this promotional store sells around 2,000 specialty food and drink products sourced from different areas of Hokkaido. Read More
Finally, if you're looking to buy something in particular but can't find it, stop by the JR Tourist Information Center in northwest JR Sapporo Station. Their dedicated staff will do their best to seek it out for you, even if that means phoning around from store to store.